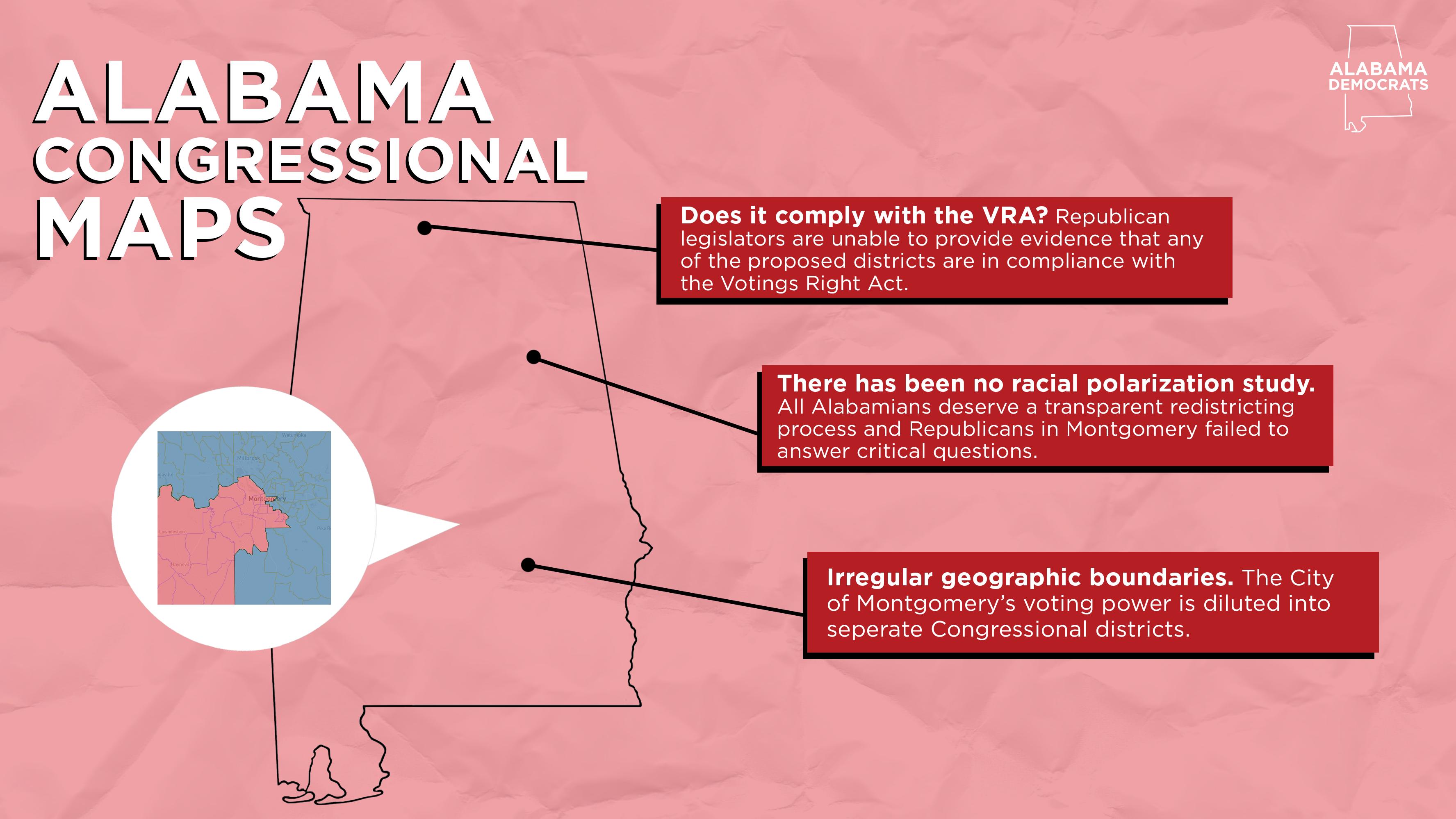 Montgomery, AL – The Alabama Legislature openly defied the Supreme Court in refusing to create a 2nd majority-black Congressional district as required by the Allen v. Milligan decision. 
Ignoring federal court orders is not new to Alabama elected officials.  
Like George Wallace's refusal to comply with the Supreme Court's order to desegregate the University of Alabama, this latest refusal by the Legislature is a continuation of Alabama's sordid history of flouting Supreme Court authority in order to deny minority citizens the rights they deserve.  
The end game of the ALGOP legislators is sinister.  Recent reporting suggests that Republicans intend to press Justice Brett Kavanaugh to eliminate Section 2 of the Voting Rights Act altogether.
The intention is clear. 
Associated Press: Federal judges question Alabama's new congressional map, lack of 2nd majority-Black district 
S. District Judge Terry F. Moorer asked if Alabama had chosen to "deliberately disregard" the court's instruction. U.S. Circuit Judge Stanley Marcus asked the state, "Were you not required to draw a new map (that provides a reasonable) opportunity (district for Black voters)?"
Abha Khanna, an attorney representing one group of plaintiffs in the case, said Alabama chose "defiance over compliance."
"Alabama has chosen instead to thumb its nose at this court and to thumb its nose at the nation's highest court and to thumb its nose at its own Black citizens," Khanna said.
Alabama Daily News:  Alabama Republicans frame redistricting case as threat to political power
"This doesn't just affect us, this case is precedent setting," said Paul Reynolds, the national committeeman of the Alabama Republican Party during a crowded state party meeting in Montgomery.
"Louisiana is right behind us, they're facing the same problem we are. They're next in line, and what is decided in our case is going to hit Louisiana right between the eyes."
"If you did what the news media wanted you to do, then it's a 5-2 split," Bowsher said.
"House Speaker (Kevin) McCarthy doesn't have that big a margin, that costs him one seat right there. I can't tell you we're going to win in this fight; we've got a Supreme Court that surprised the living daylights out of me when they handed down this decision, but I can guarantee you, if the Legislature hadn't done that, we lose."
Alabama Political Reporter: Inside Alabama Republicans' plan to overturn Section 2 of the Voting Rights Act
The decision by Alabama Republican legislators to seemingly defy a Supreme Court directive to redraw congressional voting maps with a second majority-Black district was part of a larger strategy intended to force the high court to rehear the entire case and strike down Section 2 of the Voting Rights Act altogether, according to numerous sources familiar with the plan. 
APR sources said that Republican lawmakers believe their D.C. connections have "intelligence" that Associate Supreme Court Justice Brett Kavanaugh, who voted with the majority in Milligan, is open to rehearing the case on its merits.
Insiders who spoke with APR are particularly disturbed by the mention of "intelligence" that Kavanaugh might reverse himself if the Alabama case reaches Court a second time. What is this, so-called "intelligence"? Who provided it and passed it along to the Alabama Legislature Republicans?
Alabama Political Reporter: Carl: "By all means" it is okay for Alabama to defy federal court orders  
"They did what they felt best…it's the state's job to make that decision not the federal government," U.S. Rep. Jerry Carl, R-Mobile said.
Reporters then asked Carl if he was saying it is okay for Alabama to disobey a federal court's order and Carl said, "by all means."
                                                                                  ###