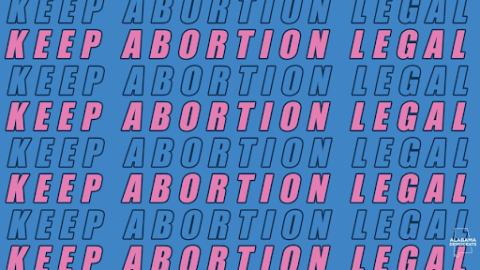 Montgomery, AL - Alabama's draconian laws against abortion and gender affirming care for transgender youth continues to ripple with unintended consequences.
Attorney General Steve Marshall openly declared his intent to prosecute women who seek out-of-state abortions as well as individuals and entities that assist women in doing so.
Senator Tommy Tuberville continues to block more than 270 military promotions over the Pentagon travel policy for service members receiving reproductive health care. 
Alabama banned gender-affirming care for transgender youth after a federal appeals court removed an injunction this week.  Now doctors are subject to criminal and civil penalties for administering puberty blockers and hormones to individuals under 19 and transgender children are further marginalized.
Because of these bans, Alabama is suffering serious consequences:
Healthcare providers and abortion rights groups sued Attorney General Marshall to prevent the state from criminally prosecuting those who assist women traveling to seek abortions out-of-state.
Senator Tuberville's grandstanding over military promotions and Alabama's near-total abortion ban striped the state of the planned relocation of U.S. Space Command.  U.S officials are rightfully concerned about Alabama's total abortion ban and what it would mean for service members stationed here.
These decisions will only exacerbate Alabama's severe physician shortage which affects the health and well-being of all Alabamians. 
Alabama's longstanding issues with aging physicians, closing of rural hospitals, and lack of Medicaid expansion are nearing a "critical stage" with doctors leaving states that ban abortion care and residents refusing assignments where bans have taken place.
Physicians are refusing to relocate to states where they cannot provide patient care as needed.
The situation is dire.
Alabama Reflector:  Health care providers sue Alabama officials over threats of prosecution in abortion aid
"Tragically, banning abortion in Alabama seems to not have been enough, and those in power want to muzzle providers like me to prevent us from sharing information with our pregnant patients about the options they have," Robinson said in a statement released by the ACLU on Monday.
"If someone was promoting themselves out as a funder of abortions out of state, that is potentially criminally actionable for us. If there are groups promoting this as part of their services, we will be taking a look at that," Marshall said in the interview, reported by the Alabama Political Reporter. 
"No Alabama law authorizes such prosecutions. Nor could it," the lawsuit stated. "That would be a blatant extraterritorial overreach of state power that not only contravenes the Due Process Clause, the First Amendment, and the fundamental constitutional right to travel, but also the most foundational principles of comity upon which our federalist system rests."
Alabama Political Reporter:  Appeals court lifts injunction on Alabama gender affirming care ban
"The Eleventh Circuit reinforced that the State has the authority to safeguard the physical and psychological wellbeing of minors, even if the United States Attorney General and radical interest groups disapprove," said Attorney General Steve Marshall. "Alabama takes this responsibility seriously by forbidding doctors from prescribing minors sex-modification procedures that have permanent and often irreversible effects. This is a significant victory for our country, for children, and for common sense."
"This is a deeply disappointing decision that is difficult to reconcile with the 11th Circuit's prior rulings and with the Supreme Court's clear guidance that discrimination because a person is transgender is sex discrimination. Our clients are devastated by this decision, which leaves them vulnerable to what the district court—after hearing several days of testimony from parents, doctors, and experts–found to be irreparable harm as a result of losing the medical care they have been receiving and that has enabled them to thrive," said the organizations representing the families in the litigation, which include the Human Rights Campaign, the Southern Poverty Law Center, the National Center for Lesbian Rights, and others. 
WIRED: States With Abortion Bans Are Losing a Generation of Ob-Gyns
In February, a group of students, residents and faculty surveyed 2,063 licensed and trainee physicians and found that 82 percent want to work or train in states that retain abortion access—and 76 percent would refuse to apply in states that restrict it. (The respondents worked in a mix of specialties; for those whose work would include performing abortions, the proportion intending to work where it remains legal soared above 99 percent.)
Then in April, a study from the Association of American Medical Colleges drawing on the first round of applications to residency programs after Dobbs found that ob-gyn applications in states with abortion restrictions sank by 10 percent compared to the previous year. Applications to all ob-gyn programs dropped by 5 percent. (Nationwide, all applications to residency went down 2 percent from 2021 to 2022.)
Last month, two preliminary pieces of research presented at the annual meeting of the American College of Obstetricians and Gynecologists uncovered more perturbations. In Texas—where the restrictive law SB8 went into effect in September 2021, nine months before Dobbs—a multi-year upward trend in applications to ob-gyn residency slowed after the law passed. And in an unrelated national survey, 77 percent of 494 third- and fourth-year medical students said that abortion restrictions would affect where they applied to residency, while 58 percent said they were unlikely to apply to states with a ban.
Washington Post: A challenge for antiabortion states: Doctors reluctant to work there
"To talk to approximately 20 candidates that state they would decline to practice in those restrictive states, that is certainly a trend we are seeing," Florence said. "It is certainly going to impact things moving forward."
Tellingly, Florence added, none of the recruiters had encountered a single physician seeking to practice in a state because it had banned abortion.
Alabama Political Reporter: New law addressing Alabama's doctor shortage takes effect Aug. 1
"The physician workforce is vanishing," said Dr. Mark LeQuire, a Montgomery radiologist. "The causes are many, including physician retirements, physician burnout and an aging population. But no matter what the causes are, there's only one solution: Alabama needs more doctors."
"The shortage of physicians in Alabama is a critical issue that affects the health and well-being of every community," said Dr. LeQuire. "The Physician Workforce Act is an important step forward to ensure more Alabamians have access to the physician-led, team-based care they need and deserve. Long term, the state needs to train more physicians in Alabama residency programs and then convince them to stay, but the Physician Workforce Act is an important first step."
   ###